Hours of Operation at the Daggett County Jail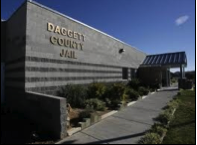 Monday – Friday
8:00 am – 4:00 pm
Visitation
• Those who wish to visit an inmate must fill out a Visitor Request Form and return it to the jail two weeks before your scheduled visit.
• Hours Monday-Saturday: 8am-12pm, 1pm-5pm, 6pm-8pm. Sundays, 8am-12pm.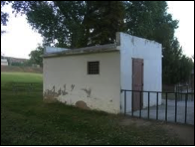 Inmates are not allowed to receive visitors on Christmas and Thanksgiving, but are allowed visitors on all other holidays.
(Old Daggett County Jail. Manila, Utah, constructed in 1931)
Barrier Visits
• Barrier visits are allowed 6 days a week between the hours of 8:00 am-11:30 am, 1:00 pm-5:00 pm and 7:00 pm-8:00 pm;Sunday 8am-12pm, no visitation after 12pm allowed; these hours exclude meal times.
• An appointment is not necessary for a barrier visit.
• You must arrive for your barrier visit in appropriate attire. No, revealing clothing, No Skirts, low cut blouses, no dresses. If you arrive without the appropriate attire you will not be allowed a visit at that time.
• Children must be kept under control.
• Inappropriate conversations or actions will end your visit and may cause you to lose the privilege to visit in the future.
Additional Rules
• You May not bring any items to the jail for an inmate.
• ALL deposits to the inmate's book must be in the form of a money order or cashiers check made out to Daggett County Jail, with the inmates name written clearly on the money order/ cashiers check.
Inmate Phone
• Please contact the inmate phone company to set up an account or to report problems at (800) 844-6591.
• No messages will be given to any inmate. If you have an emergency please contact the jail directly for County inmates, the State Prison for State inmates and the US Marshal's Office for Federal inmates.