What To Expect in The Salt Lake County Jail.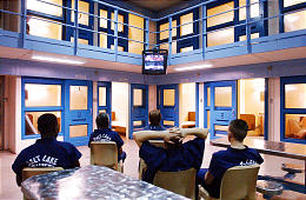 For those of you that have never been to jail, this information is to help you have a better understanding of the experience as an inmate or as a visitor. We want to make sure you have the right information available to you, so that you can be better prepared for the day by day experiences of the Salt Lake County Jail. Now we can't say to you, that jail isn't hard, but we know that with this information, your experience and transition may be a little easier.
As a visitor you can should go in with the expectation to be greeted by a hostile environment. Most of the staff are rude and dis-respectful, so if you have an experience without incident, you should consider your experience a good one.
As an inmate, going from a free civilian to a locked up inmate can be a scary experience. Expect to be treated like dirt, and looked down upon. If you have been in the Military, you should memorize the term "Just Play the Game". Even though you didn't sign up for this one, it may help with your mental state.
JailResource.com has a network of bail bondsman in Salt Lake City, Utah servicing 24 hour bail bonds for Salt Lake County Jail.
If you're in need of Salt Lake County Jail bail bonds please use the bail bondsman finder form at the top of this page.
You can post an inmates bail using a standard surety bond for the Salt Lake County Jail. The bail bondsman should charge you 10% of the total bonds amount. For instance, if the bond is set at $3,500. Then the person posting bail would need to pay the bondsman $350.
Use the form at the top of this page to find a licensed bail bondsman in Salt Lake City, Utah.
Salt Lake County Jail Inmates Guide

This guide is made from speaking with former inmates, officers, and sources from sister sites.
Going into the Salt Lake County Jail
1. Pre-Sentencing
Most inmates go through a pre-sentencing process before actually being booked and sent into quarantine. At this stage, depending on how severe your crime is, you may actually get to go home. Most cases, you are told you are now an inmate of the Salt Lake County Jail.
You will stay in jail until you get a court date and are sent to see the judge. At this time the judge may release you with conditions, or you may be sentenced.

2. Life in Jail
Inmates
Getting a-long with inmates is an experience of its own. Everyone is different, so here are a few things we have heard that may help.
Avoid saying things abruptly.
Try to make some friends quickly.
Avoid confrontation.
Keep to yourself and stay our of the typical drama that occurs day to day.
You are not able to choose which inmate you share a cell with, so do your best to get along with him/her.

3. Good Behavior

Based on your good behavior, you are allowed time off at times. It is different case by case, but usually it can be 5 days a month, or 2 months out of 6. Information we receive is from former inmates in the Salt Lake County Jail.
Good behavior is based off of not getting any write-ups, don't steal, fight, become disorderly, do not disobey officers, and avoid confrontations with other inmates.

4. Jail Layout

There are around 25-30 pods in each block. (A Block, B Block, C Block, D Block, etc.)
There are pods for medical problems, quarantine pods, minimum security pods, medium security pods, maximum security pods, and super max pods.
Most inmates will be sent to a quarantine pod until they can be classified into one of the other sections.
Worst case scenarios are being in a pod with an arrogant or unruly guard / peace officer.
Minimum security pods are generally a bit better, as the guards act a little more human and you are allowed more time out of your cell.
Some blocks allow you to watch TV for a specific amount of time during the day. Every case is different, so do not go in expecting anything.

5. Leisure Time

There are a few items of personal entertainment that may help pass the time.
T.V. for when you are able to watch it.
Reading Books
Handball in the Concrete Court Area
Playing Cards
The entertainment that you, yourself will create in your head.
LDS church services are held on Sunday, but recent reports say that peace officers are only allowing specific individuals to attend the services. We are assuming this is due to bad behavior.

6. Receiving Visitors

Visitation is sometimes twice a week depending on which block you are in.
Visits last around 30 minutes.
Your visit takes place in a room with 5 small windows that you can see through.
You may speak through the vents on each side of the window, but hearing is sometimes heard, especially if the visit is full and everyone is talking or screaming.

7. Meals

As an inmate you will receive 3 meals per day.
The food as described by an inmate: "Substandard lifeless nutrition deprived depressed pig shop"
The food has the nutrients you need to survive, but as for what you are easting, most inmates rate it on a scale of 1-10 a "3"
A favorite food would be cold cereal, and most inmates least favorite food is what they call "Cat Food", the left over scraps of bologna, spam, turkey and whatever else mixed with mayonnaise, served with cheap white bread.
Snacks can only be payed for through commissary.

8. Clothing

Each inmate is issued a colored uniform. Red, Blue, Gray, Yellow.
Shoes are similar to VANs style shoes but are not the greatest for walking or running around in.
Men are issued underwear like shorts, Woman are issued "granny panties".

9. Advice From a Former Inmate

Check out books from the library as soon as possible, drink 5 or more cups of water at night to keep you from feeling too hungry. Get a commissary order in as soon as possible, don't front anybody food off of commissary, go to all the 12-step meetings, go to LDS services, get in a program if possible, apply to work in the kitchen or as a house-mouse or any other job as soon as possible, call as many people as you can before you are taken from the area where you get checked in (the calls are free), find some friends, do physical exercise as much as possible, and just stay busy however possible.
Whenever an inmate is out of their cell, they usually have the option to make a call. So if you have a loved one or friend that is currently an inmate in the Salt Lake County Jail, you will want to make sure you have money on your VCON account, so you can receive calls from the inmate.
To Create an Account, Go To – www.MyVConnect.com
Click on English or Spanish
Enter your phone number and click "Login"
You will be asked to create a 4 digit pin, once you have setup your account you can begin making deposits.
The minimum amount that can be placed on your account is $25
Every time you make a deposit into your account, you are charged a fee of $7.95 – So you may want to make a larger deposit if you know that your friend or loved one may be in jail for some time.
Each call you pickup from an inmate, you are instantly charged $3.00
Your phone call has a limit of 15 minutes, and if you go the full 15 minutes your total charges will be around $5.00
Note: If your call lasts only 2 minutes, you will still be charged the $3.00 fee for picking up, so you may want to be frugal with how many calls you pickup. If you do pickup, you might as well take full advantage of the 15 minutes your allowed. Phone calls can get pretty expensive!
Be aware, that each call is screened and or recorded by the Salt Lake County Jail.
The following information was taken from several inmates and visitors from the Salt Lake County Jail.
Q: How Many visits can an inmate have per week?
A: 2 (30) Minute Visits
Q: What is involved with the check in process?
A: You must stow away your electronics and jewelry in a locker, than listen to the rules from a jail employee. Once you have heard and agreed to the rules, you are sent down a long hallway to wait for the visitation doors to be unlocked where you will than enter a room with windows and seats on both sides.
Q: What is the visitation room like?
A: Quiet, unless it's a full house with a yelling match going on. Visitors to the Salt Lake County Jail can communicate with an inmate through a slated vent underneath the windows you can see each-other through. Visitors and Inmates may need to speak a bit louder in order to hear through these small vents.