Inmate Mail
• All incoming and outgoing mail, execpt legal mail and other specifically approved items must be in postcard form.
• Mail received other than authorized postcards, will be returned to sender.
• Post cards must have the sender's full name and complete return address.
• Post cards for inmates need to be sent to the following address:
Cache County Jail
Inmate's Full Name
1225 W. Valley View, Suite 100
Logan, UT 84321
• Post cards cannot have photos, glitter, perfume, lipstick, or any obscene material.
• The postage stamp will be removed prior to the inmate receiving the post card so do not write on the postcard behind the stamp.
• Post cards will not be accepted if they are larger than 6 inches by 11.5 inches.
• Inmates are allowed to have photographs in their possession no larger than 5 inches by 7 inches.
• Photographs may be mailed to the inmate provided the envelope is clearly marked "Photographs". The photographs may not exceed 5 inches by 7 inches in size. The inmates name and name number must be written on the back of each photograph.
• Books and magazines are available through the Jail Library. Should you want to send a specific book to an inmate, it must be directly mailed from a book store/publisher. Nothing can be written in or added to the book.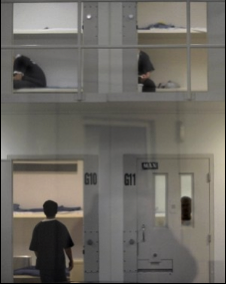 Phone Calls
• Inmate's cannot receive incoming calls.
• All inmate outgoing calls are collect. If you have a block on your phone, the inmate may be able to purchase a phone card.
• Evercom is the company that handles Cashe County Jail's inmate phone system. If you have any questions you may call them at 1-800-844-6591.
Commissary
• Personal hygiene items cannot be brought into the jail and must be purchased though commissary.
• Inmates have the opportunity to basic hygiene when they are initially booked in and then can order once a week thereafter. Commissary is usually ordered on Monday evenings and delivered Thursday mornings.
• There is a $50 limit on commissary orders; $80 if shoes are ordered.
Inmate Funds
• The only forms of money accepted are Cash, Money Order, Cashier's Check, and Visa/MasterCard.
• Cash is accepted at the Jail Administration window Mon.-Fri. 8-4:30, except holidays.
• If you want to send a money order or cashier's check through the mail, please make it payable to the Cache County Jail and include the inmate's full name in the memo.
• A 24 hour drop box safe is also located in the Jail Booking Lobby. If you need a receipt then please come to the Jail Administration during hours listed above.
• Within two weeks after the inmates release, commissary checks will be mailed directly to the home address that is in the inmate's records. Should the address change, please notify the booking deputy when being released.
Mail an Inmate Online
- Jail Resource will Mail Your Letter For You!